Transform your patio into oasis full of joy
Patio enclosure Alukov Pergola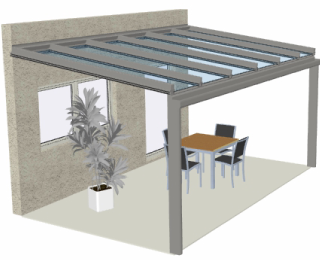 The Alukov Pergola patio enclosures system has stable construction without the possibility to retract the roof.
As all Alukov enclosures, the Alukov Pergola is custom made for your property. Thanks to Alukov Pergola you can use your patio even in bad weather and the usability of your patio will be extended up to 200 days a year. The construction sustains heavy snow and wind loads - you can place this enclosure almost everywhere.
The Alukov Pergola system offers wide range of accessories - shading system, retractable sliding walls, LED lighting and more.
Transform your patio into oasis of joy.
Enhance the Alukov Pergola to the max
Sliding glass wall
Extends time spent on your patio during rainy weather. The walls can be easily retracted and folded on the side of the enclosure. The glass is made out of safety glass ESG 8 or 10 milimeters thick. The glass walls are mounted elegantly into aluminium profiles equiped with durable sliding mechanism.
Ventilation window
Tilting ventilation windows are handy when the Alukov Pergola is equiped with sliding glass walls. For ideal wind circulation we reccomend to use two windows used each on opposite glass walls.
LED lighting
Decent yet powerfull LED lighting will allow you to spend even a bit more time on your patio. It is refinedly placed in the special bars in the roof profiles and it will bring you the joy of after sunset atmosphere. The lighting is operated by remote control.
The shading system is installed above the stable aluminium construction. The next option is to use the shading as the front or side wall or you can combine both options.
The shading system is operated by the remote control and the color of shading system can be customised accordingly.
The high quality fabric used for the shading system creates great combination with the basic Alukov Pergola system. The snading system can be tuned by adding the rain sensor, wind sensor and sun intensity sensor.