The PIT STOP tradition continues, now with cyclists!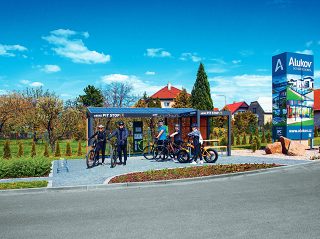 Nabíjecí stanice pro elektrokola od Alukovu
We have developed PIT STOP, a modern multifunctional rest area and solar charging station for cyclists which can significantly improve the network of cycle paths and cycle routes in your region. An important element is the multifunctional station allowing charging of up to five e-bikes at the same time. It also has a set of tools for bike repairs, a compressor, USB chargers and 220 V sockets. Sufficient energy coverage of the entire system is provided by photovoltaic panels installed in the roof. PIT STOP is powered by the cleanest energy - the sun energy. It is maintenance-free and has almost zero operating costs. The solar panels can be mounted in one of two possible directions to achieve the best absorption of solar energy from the sun.
The construction is made of high quality aluminium profiles coated in comaxite. The wooden elements are treated with a protective coating. The design of the PIT STOP is interesting for its installation in the city, but also in the countryside. It will aslo find its use for e-bike lovers as a charging station in front of modern office and apartment complexes. Extend the convenience and make the bike paths attractive to ebikers who come to you. More at www.ebike-pitstop.com/en